Fulham Reach
Our Staff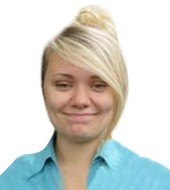 Francesca
Nursery Manager
I joined Millie's House in 2014 and started off as an Apprentice in Parsons Green. I immediately knew I had made the right career decision and worked incredibly hard to achieve my NVQ3.

In October 2015 I transferred to Millie's House Fulham Reach to support our new and rapidly growing nursery. I worked throughout the nursery and particularly focussed on the baby suite as I feel incredibly passionate about quality care for our youngest and most vulnerable children.

I was very excited to be offered the Acting Deputy Manager position at the start of 2017 and to be offered the position of Manager, later in the year was a real honour. Everyday my passion for children grows and I thoroughly enjoy supporting each and every one of them, by creating a homely and nurturing environment.

I am looking forward to continuing to grow my career, through the development of Millie's House and hope to be taking up my degree in Early Years soon.
Caitlin
Deputy Manager
I joined our Fulham Reach setting in November 2017, having just returned from a year of travelling around the world including volunteering with an educational charity in Cape Town, South Africa. Prior to that I have worked as a class teacher for 4 years in Primary schools in North West and South West London.

I completed my PGCE in Primary education with Canterbury Christ Church University in 2013 whilst carrying out my role as a reception class teacher.

My passion for the Early Years really developed over this year, and despite thoroughly enjoying my teaching placements in KS1 & KS2 I knew Early Years was where I wanted to work. Since completing my PGCE in 2013 I have been a lead Early Years Teacher and mentored other trainee teachers in Early Years Practice.

I am very excited to now be working at Millie's House Nursery where I can develop my knowledge of the EYFS and teaching practice further. The building and outdoor spaces are fantastic, and I can't wait to support our children in developing and growing further. With my knowledge of Early Years Settings in schools I can support our oldest pre-school children in preparing for the next step of their learning journey at school.