Fulham Reach
Our Staff
Charmayne Bennett
Acting Manager
My name is Charmayne Bennett and I am currently the Acting Manager at Millie's house in Fulham reach. Prior to stepping up to Acting Manager, I had been in the Deputy Manager role since July 2016, having transferred from our East Sheen setting where I had been working as Deputy Manager since 2014.

I took the opportunity to transfer to Millie's House here in Fulham Reach, when it came up, because I fell in love with the building, atmosphere, staff and families. I felt the layout met the needs of the children so well and was so excited to find a nursery with so much outdoor space of its own and access to a wonderful park right here in the centre of London. As a Londoner myself, I knew this was what I wanted to offer our children.

I enjoy my role and love coming to work to support the children to develop and grow through their years of being with us. I have a particular passion for teaching children and supporting families with children facing developmental challenges; be it routine, behaviour, special circumstances and needs. I also love supporting my team and bring out the best in them so we can all ensure the time the children are in care with us has wonderful outcomes.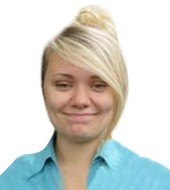 Francesca Joyce
Acting Deputy Manager
I joined Millie's House in 2014 and started off as an Apprentice in Parsons Green. I immediately knew I had made the right career decision and worked incredibly hard to achieve my NVQ3.

In October 2015 I transferred to Millie's House Fulham Reach to support our new and rapidly growing nursery. I worked throughout the nursery and particularly focussed on the baby suite as I feel incredibly passionate about quality care for our youngest and most vulnerable children.

I was very excited to be offered the Acting Deputy Manager position at the start of 2017 and to know that my huge commitment to growing this nursery and my career had been acknowledged. It has been an incredibly rewarding job welcoming new families into the setting and watching the nursery grow as a whole. Everyday my passion for children grows and I thoroughly enjoy supporting each and every one of them, by creating a homely and nurturing environment.

I am looking forward to continuing to grow my career, through the development of Millie's House and hope to be taking up my degree in Early Years soon.