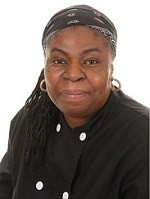 Hello, my name is Pat and I am the chef here at Millie's House Nursery-Parsons Green.

Being a professionally trained chef with many years' experience, my role here at Millie's House is to ensure children have a well-balanced diet; this contributes towards a healthy lifestyle. I provide good nutritious, balanced meals using the correct sized portions for both children and staff. I cater for all dietary requirements and ensure that even the fussy eaters enjoy meal times.

I work very closely with parents when a child is introduced to weaning, this is very unique to that child so individual plans will be created accordingly.

I look forward to meeting you to discuss any further questions when you are here for a show around.